Best of Julep Beauty Gift Sets + Last Chance for the FREE Gift with Purchase
It's never too early to get a start on your holiday shopping!  My oldest daughter has finally discovered how awesome nail polish can be.  Now of course since I'm stingy (discussed this in a previous post) I think she'll enjoy having her own stash of polishes.  And what better way to get her started than with these awesome Julep Beauty Gift Sets!
Last week, Julep released their 2015 Holiday Catalog which got me feeling very merry! Check a few things off your list this week and build the perfect beauty gift for the leading ladies in your life. Plus, all gifts come in present-ready holiday packaging. Here are my favorite Julep gift ideas:
Perfect Nail Gift: Julep has hundreds of polish colors waiting to be selected for customizable 3, 6 or 12-piece polish gifts. Pick 6 polishes for $48 (regularly $90)
Luscious Lip Crayons: Full-coverage, limited-run, holiday-exclusive lip crayon colors are available now! A hydrating, creamy formula glides on to deliver long-lasting color. Pick three crayons for $40 (regularly $60).
Gloriously Glossy Gift: The subtle color and unstoppable shine in Julep's signature lip gloss will keep your lips mistletoe-ready. Ready to gift in an artist-illustrated sleeve. Pick four glosses for $50 (regularly $80).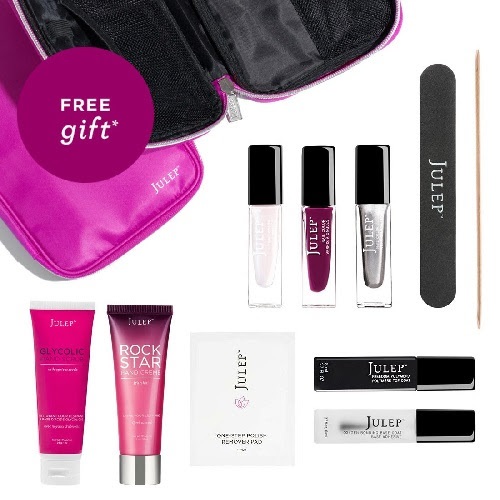 Plus, when you get any of these gifts, you'll get a little something for yourself too – for FREE! Through 11/18, you'll get a free 10-piece gift with any purchase of $40 or more! Just add the Roam for the Holidays gift set to your cart and use code JETSET at checkout.
*Disclosure:  This post contains affiliate links.  I will use the money made to purchase more polish…and wine!*